Meghalaya Umbrella Scholarship 2023 | Pre & Post Matric Scholarship – Meghalaya Scholarship 2023 is available for all meritorious and needy minority group students. These schemes play an important role in the development of education for needy and meritorious students. Being a beautiful state in India, it is a tourist attraction. There are also some of the best colleges in the state like IIM, Shillong and NIT Meghalaya. These scholarships have helped ease the struggle of students who are willing to take their education to the level. Further, the Government of Meghalaya is making changes based on the educational needs and technology required by a student.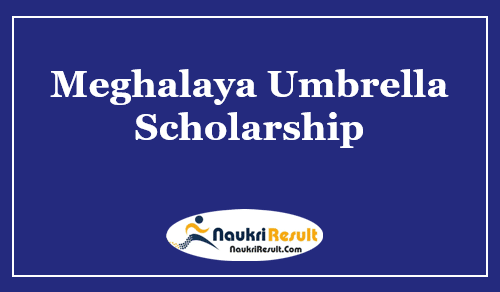 Meghalaya Umbrella Scholarship 2023 -24 | Apply Now | Eligibility
| | |
| --- | --- |
| Organization Name | Government of India Ministry of Tribal Affairs |
| Name of the Scholarship | Meghalaya Umbrella Pre Matric Scheme Scholarship 2023 |
| Classes  | 9th and 10th |
| Category | Scholarships |
| Academic Year | 2023-2024 |
| Starting Date for Registration | Started |
| Last Date for Registration | 6th December 2023 ( Expected ) |
| Application Mode | Online |
| Beneficiaries | Centrally Sponsored Scheme Of Pre-Matric Scholarship For Needy ST Students Studying In Classes IX & X |
| Official Website | scholarships.gov.in |
About Meghalaya Scholarship
The Meghalaya government is providing scholarships to encourage meritorious and economically weaker and poor students to study them.
It is for the information of all concerned that online scholarship applications for eligible candidates belonging to OBC (pre-matric and post-matric), SC (pre-matric and post-matric) and EBC post-matric scholarship scheme belong to OBC and SC community and EBC are recognized schools (colleges) /colleges for the academic year 2023.
State students studying in and out of tyre state are invited to the Institute (Institutions).
The process of submitting applications for various pre-matric and post matriculation was conducted online.
Meghalaya Umbrella Scholarship 2023 Eligibility Criteria
Scholarship Name
Eligibility
SC/ST PG Scholarships for Professional Courses

Must belong to SC and ST community
The applicant wants to pursue in 1st year of professional courses

Pre-matric scholarship, umbrella scheme Meghalaya for ST students

Should be domicile Holder of Meghalaya.
completed 10th from recognized university/school/college
Belong to the ST category.

DBT Wellcome Early Career Fellowships
Meghalaya Border Areas Scholarship

Permanent resident of Meghalaya
Belong to the SC/ST community.
Not employed in any service under govt. or private.

ISCA Scholarship
CCB Meghalaya scholarship

Studying at college/university level (pursuing Diploma level, UG and PG level courses).
Must score 40% to 50%

Research Associate in Biotechnology – DBT

domicile holder of the North eastern region.
Ph.D. degree MD or MS degree holder, and having research interest in Biotechnology and life sciences.
below 40 years age

NER Special Scholarship Scheme

Must be domicile holders of the North-Eastern region.
12th passed or equivalent exam.
Want to take admission in general degree, Technical /professional courses
4.5 lakh family income is mandatory to apply
Value of Scholarship  : 
Maintenance allowance,
Provision for student with disabilities,
Reimbursement of compulsory non-refundable fees,
Study Tour charges,
Typing/Printing of thesis and
Book allowance for students pursuing correspondence courses, for complete duration of the course.
Payment of Scholarship
Maintenance fees are payable from 1st April or from the month of admission, whichever is later, at the end of the academic year (including maintenance during holidays) till the month of completion of the examination, provided that if the student gets admission after 20th, the monthday, the amount will be made from the next month of the month of admission.
In case of renewal of scholarship spared over the years, maintenance fee will be paid from the month after that month, as long as the scholarship was paid in the previous year, if the course of study is continuous. (e.g. Intermediate Junior Intermediate, Senior Class. )
The scholarship amount will be paid by the government to the selected students. The state/UT administration sits as per the procedure laid down by them in this regard.
Scholarship sustenance will not be made for the duration of internship/houseman-ship in M.B.B.S. For practical training in courses or other courses if the student has some allowance/allowance during practical training in other courses. Some remuneration is received during the internship period of stipend.
Selection of Candidiates
Scholarships will be given to all eligible SC/ST and minority candidates, who are subject to application of means test prescribed in the Regulation.
Candidates belonging to one State but studying in another State will be awarded scholarships by the State to which they belong and submit their applications to the competent authorities in that State.
They will also be treated as if they were studying in their own State in case of fee exemption or other concessions.
Objectives of Meghalaya Scholarship
Scholarships at pre-matric level will encourage parents of different categories to send their schoolgoing children to school, reduce their financial burden on schooling and sustain their efforts to complete school and higher education. JK Post Matric Scholarship 2023 | Application Form | Eligibility
The scheme will lay the foundation for their educational achievement and provide a level playing field in the competitive employment sector.
Empowerment through education, which is one of the objectives of the scheme, has the potential to lead to the upliftment of socio-economic conditions of minority communities.
Documents Required To Apply For Meghalaya Umbrella Pre Matric Scheme Scholarship 2023
A copy of the application for scholarship in the prescribed form (separate application form prescribed for 'new' and renewal scholarships by the respective States/UTs).
A copy of the passport size photo (for new scholarship) with the signature of the student.
A CERTIFICATE OF SCHEDULED TRIBE (originally) duly signed by an authorized revenue officer, not below the post of Tehsildar.
An income declaration by self-employed parents/parents, stating fixed income from all sources through an affidavit on the non-judicial stamp paper.
The employed parents/parents are required to obtain income certificate from their employer and for any additional income from other sources, they will submit an declaration through an affidavit on the non-judicial stamp paper.
If the applicant was receiving scholarship under this scheme last year, then receipt of receipt of acknowledgement of scholarship in the previous year on the form attached with the application is only available to the concerned institution/institution.
It was duly countersigned by the head of the school.
The full application in all respects will be submitted to the Head of the Institute/School, in which candidates will appear or appear for the last time and forwarded by the Head of the Institute.
How To Apply For Meghalaya Umbrella Pre Matric Scheme Scholarship 2023-23?
Visit the official site @ scholarships.gov.in.
The National Scholarship portal page appears.
Click on the "State Scheme"
All the states will be shown.
Now, tap on Meghalaya.
You can check the details and
Hit on the "New Registrations" or "Log in".
Enter details as required.
Before you click on the Submit, re-check all the details.
Important Links
| | |
| --- | --- |
| To Apply for Meghalaya Umbrella Pre Matric ST Scholarship 2023 | Click Here  |
| To Check Meghalaya Umbrella Pre Matric Scholarship 2023 Details  | Click Here  |