JK Post Matric Scholarship 2021 | Application Form | Eligibility –  Complete list of Jammu and Kashmir Scholarships. The Government of Jammu and Kashmir along with the Central Government provides various scholarships to students pursuing higher education in the State. These scholarships are given to school and college students. Scholarship is applicable only to students who are facing financial problems to complete their education. Through these scholarships, the Government wants to help these candidates complete their education. As we all know, the citizens of Jammu and Kashmir are facing financial problems. In this article, you will read about JK Scholarship.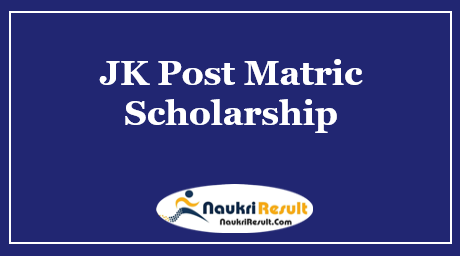 JK Post Matric Scholarship 2021 | Application Form | Eligibility
Organization Name
Government of India, Ministry of Tribal Affairs
Name of the Scholarship Scheme
Post Matric Scholarship Scheme
Category
Scholarships
Beneficiaries
ST Students
Academic Year
2021-2022
Starting Date for Registration
Started
End Date for Registration

Last date: 20th November 2021
Defective Verification: 20th November 2021
Institute Verification: 5th November 2021

Official Website
scholarships.gov.in
Eligibility Criteria
Scholarships are open to citizens of India
These scholarships will be given for the study of all recognized post-matrics for post-secondary courses to be conducted in recognized institutions with the following requirements:
Training courses such as private pilot licence courses in aircraft maintenance engineer courses and training – Scholarships for training courses at Ship Dufferin (now Rajendra) Military College, Dehradun and courses at all India and state level pre-examination training centres are not awarded.
Students who want to study for another professional, e.g. after completing their academic career in a professional line. AFTER LLB, B.T. /Bed. Will not be eligible. From the academic year 1980-81, however, studies in two professional courses are allowed
Students studying in Class XI of higher secondary schools who have continuous school courses of Class XII will not be eligible. However, in cases where class X examination of such courses is considered equivalent to matriculation and students can join other co-operative after passing class 10
Selection of Candidates
All eligible ST candidates will be given scholarships under the application of means test prescribed in these regulations.
Candidates belonging to one State but studying in another State will be awarded scholarships by the State to which they belong and submit their applications to the competent authorities in that State.
They will also be treated as if they were studying in their own State in case of fee exemption or other concessions.
Objectives
The objective of the scheme is to provide financial assistance to the Scheduled Tribe students studying at the post matriculation or post-secondary stage to enable them to complete their education.
Benefits
For different groups, maintenance allowance is different. (See, 'Government Plan' link above)
Additional allowance upto Rs 240 per month to disabled ST students
reimbursement of mandatory non-refundable fee
study travel charges up to 1,600 per year INR
Typing thesis /etc. Printing charges up to 1,600 INR per year
Annual allowance of 1,200 INR to students pursuing correspondence courses through distance and continuous education.
Payment of JK Post Matric Scholarship 2021
Maintenance allowance is payable for the month from 1st April or from the month of admission, whichever is later (including maintenance allowance during holidays), provided that if the student receives admission, the amount will be paid from the next month of the month of admission after the 20th day of the month.
In case of renewal of scholarship spared over the years, maintenance allowance will be paid from next month of that month, unless the scholarship was paid in the previous year, if the course of study is continuous.
The State/UT Administration of the student belongs to the Government shall pay the scholarship amount to the selected students as per the procedure prescribed by them in this regard.
Internship at M.B.B.S / M.S Scholarships will not be paid for the period of housemanship. For practical training in the course or any other course if the student receives some remuneration during the internship period or some allowance during practical training in another course/course. There is a stipend.
Documents Needed To Include For JK Post Matric Scholarship 2021
A copy of the application for scholarship in the prescribed form (separate applications prescribed for 'new' and renewal scholarships by the respective States/UTs)
A copy of passport size photo with student signature (for new scholarship)
A ST certificate (originally) duly signed by an authorized revenue officer, not below the post of Tehsildar
An income declaration by self-employed parents/parents, stating fixed income from all sources through an affidavit on the non-judicial stamp paper.
The employed parents/parents are required to obtain an income certificate from their employer and for any additional income from other sources, they will submit an declaration through an affidavit on the non-judicial stamp paper.
Receipt of receipt of scholarship last year on the form attached to the application was duly countersigned only by the head of the concerned institute/school if
How to Register For the J&K Post Matric Scholarship 2021
Visit the official website of the scholarship portal @ scholarships.gov.in
Now on the Homepage, click on the State Schemes tab.
There click on the Jammu & Kashmir and check the Guidelines.
Now go through the whole notification.
If in case you are interested & eligible, applications complete in all respects shall be submitted to the Head of the Institution, being attended or last attended by the candidates, and shall be addressed to an officer specified for this purpose by the government of state/ union territory to which the student belongs, in accordance with the instructions issued by them from time to time.
Important Links