HPSC Civil Judge Syllabus 2023 PDF Download | HPSC Exam Pattern – Haryana Public Service Commission (HPSC) has going to conduct the Written Examination for the post of Civil Judge (Junior Division), for that they shall upload the Syllabus and Written Exam Pattern on the Official Site. Applied candidates who are searching and preparing for this Written Examination. This page will be useful to you, we have included the detailed Syllabus and Exam Pattern Here.
Candidates must know the topics that are asked under each section of HPSC Civil Judge exam 2023 during their preparation. We will now be looking at the subject-wise HPSC Civil Judge syllabus 2023 so that you can cover all the important topics that can be asked in the examination and ensure scoring maximum marks in it.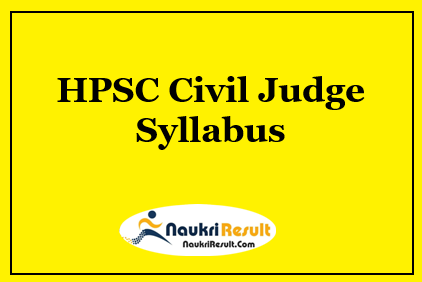 HPSC Civil Judge Syllabus 2023 PDF Download | HPSC Exam Pattern
HPSC Exam Pattern 2023
Here we have provided the HPSC Civil Judge Exam Pattern in detail for Prelims and Mains Written Examination.
Preliminary Exam Pattern
The objective type questions with multiple-choice answers for the Preliminary exam syllabus shall be from the syllabus for the Main Examination.
The question paper for Preliminary Examination shall be of two hours duration.
It shall consist of a maximum of 125 questions and each question shall carry 4 marks and for every wrong answer 0.80 i.e. 20% or say 1/5th mark shall be deducted.
Type Of Questions
Total No. Of Marks
Time Duration
Objective Type Questions
125 Questions
125 * 4 = 500 Marks
2 Hours
Mains Exam Pattern
No candidate shall be allowed to appear in the Main Examination unless he,/she secures a minimum of 150 marks in the Preliminary Examination.
Main Written Exam will be subjective/narrative type.
Each written paper will be of 3 hours duration.
The following are the Exam pattern for HPSC Civil Judge Mains Exam.
Type Of Exam
Topics
 Marks
Time Duration
Subjective/ Narrative Type Exam
Paper-I: Civil Law-I
200 Marks
3 Hours
Paper-II: Civil Law-II
200 Marks
3 Hours
Paper-III: Criminal law
200 Marks
3 Hours
Paper-IV: English
100 Marks
3 Hours
Paper-V: Language
100 Marks
3 Hours
Paper-VI: Viva-Voce
200 Marks
 –
HPSC Civil Judge Syllabus 2023
Those Candidates who are Interested to the following vacancy and completed all Eligibility Criteria can read the Notification & Apply Online. In this page we provide the Complete Syllabus of this Recruitment with Latest Update Exam Pattern and the Exam Date also.
Paper-I Civil Law-I Syllabus
Code of Civil procedure.
Punjab Courts Act.
Indian Contract Act.
Indian Partnership Act
Sale of Goods Act.
Specific Relief Act.
The Indian Evidence Act.
Haryana Urban (Control of Rent and Eviction) Act. 1973
Paper-II Civil Law-II Syllabus
Hindu Law.
Mohammadan Law
Customary Law
Law of Registration and Limitation
Paper-III Criminal Law Syllabus
Indian Penal Code.
Criminal Procedure Code
The Indian Evidence Act
Paper-IV English Syllabus
English Essay (1000-1100 words)
Precis (25 Marks)
Words and Phrases (Make sentences of the given words and Phrases) (25 Marks)
Comprehension (25 Marks)
Corrections (25 Marks)
Paper-V Language Syllabus
Hindi (in Devanagari Script)
(a) translation of an English passage into Hindi: 20 marks
(b) Explanation of Hindi passage in prose and poetry in the same language: 30 marks
(c) Composition (essay), idioms, and corrections: 50 Marks
Paper-VI Viva-Voce Syllabus
To judge the personal qualities of the candidates. The viva-voce shall relate to matters of general interest and is intended to test the candidates' alertness. intelligence and general outlook, It shall be conducted in English.