RSMSSB VDO Syllabus 2021 PDF Download | VDO Exam Pattern – Rajasthan Subordinate and Ministerial Services Selection Board (RSMSSB) has going to conduct the Written Examination for the post of Village Development Officer/ Grama Vikas Adhikari, for that they shall upload the Syllabus and Written Exam Pattern on the Official Site. Applied candidates who are searching and preparing for this Written Examination. This page will be useful to you, we have included the detailed Syllabus and Exam Pattern Here.
Candidates must know the topics that are asked under each section of RSMSSB VDO exam 2021 during their preparation. We will now be looking at the subject-wise RSMSSB VDO syllabus 2021 so that you can cover all the important topics that can be asked in the examination and ensure scoring maximum marks in it.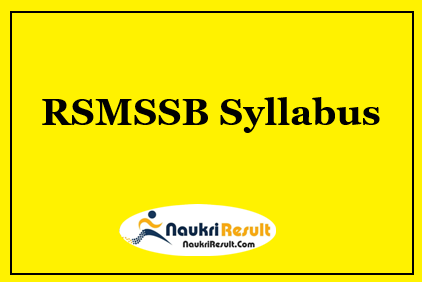 RSMSSB VDO Syllabus 2021 PDF Download | VDO Exam Pattern
| | |
| --- | --- |
| Organization Name | Rajasthan Subordinate and Ministerial Services Selection Board (RSMSSB) |
| Post Names | Village Development Officer/ Grama Vikas Adhikari |
| Category | Syllabus |
| Selection Process | Phase-I: Preliminary Examination, Phase-II: Mains Examination |
| Job Location | Rajasthan |
| Official Site | rsmssb.rajasthan.gov.in |
| RSMSSB VDO Topics & Exam Pattern PDF | Download Syllabus |
| RSMSSB VDO Previous Question Papers | Download Previous Papers |
RSMSSB Exam Pattern 2021
Rajasthan Gram Vikas Adhikari 2021 exam pattern is mentioned below in the table
Preliminary Exam Pattern 
The exam is the Preliminary Test.
There will be 100 Questions of Multiple Choice Objective Type.
All the questions in the exam paper will carry equal marks.
Maximum Number of Marks: 100
Time Duration is 2 Hours.
Mains Exam Pattern 
Exam Pattern for the Written Exam is as Follows:-
Exam Will be Objective Type.
Questions will be in the form of MCQs.
There will be 4/5 options, for every question.
Out of 4/5 options/ only 1 option will be correct.
Detailed Exam Pattern will be provided soon.
RSMSSB VDO Syllabus PDF Download
Those Candidates who are Interested to the following vacancy and completed all Eligibility Criteria can read the Notification & Apply Online. In this page we provide the Complete Syllabus of this Recruitment with Latest Update Exam Pattern and the Exam Date also.
General Knowledge
Current Affairs.
Indian History
History and Culture of Rajasthan.
Polity.
Indian Geography.
Rajasthan Culture
English
Fill ups.
Direct Indirect.
Active Passive.
Tenses.
Verbs.
Adjectives.
Vowels.
Modals.
Synonyms. & Antonyms
Spotting the error
Sentence Improvement.
Preposition.
Mathematics
Calendar.
Click.
Age Calculation.
Elementary Statistics.
LCM HCF
Mensuration.
Bodmas.
Ratio and Proportions.
Time Distance.
Percentage
Algebra.
Compound Interest.
Geometry and Trigonometry.
Reasoning
Analogies.
Coding and Decoding.
Mathematical Operations.
Relationships.
Jumbling.
Venn Diagram.
Data interpretation.
Syllogism.
Similarities and Dissimilarities.
Alphabetic and Number Series.
Computer
Characteristics of Computers.
RAM and ROM
CPU.
Basics of computers.
File System.
Operating System.
Microsoft.
Search Engine.
Toolbar.
Hindi
संधि एिं संधि विच्छे द
समास
उपसगस
पयासयिाची शब्द
वििोम शब्द
यग्ुम शब्द
शब्द शुद्धि
िाटय शुद्धि
िाच्य
क्रिया
अनेक शब्दों के सिए एक शब्द
मुहािरे एिं िोकोक्टतया'ाँ
िाच्य: कतसित ाच्य, कमसिाच्य और भाििाच्य प्रयोग
शब्द-शुद्धि,अशुद्ि शब्दों का शुद्धिकरर् और शब्दथस अशुद्धि का कारर्
िाटय -शुद्धि, अशुद्ि िाटयों का शुद्धिकरर् और िाटयथस अशुद्धि का कारर्
क्रिया: सकमसक, अकमसक और पिूकस ासिक क्रियां
िाटयांश के सिए एक साथसक शब्द
संज्ञा शब्दों से विशेषर् बनाना
सरि, संयटुत और समश्र अंग्रजे ी िाटयों का हहन्दी में रूपातं रर् और हहन्दी िाटयों का अंग्रेजी में रूपातं रर्
कायासियी पत्रों से संबंधित ज्ञान
Exam Preparation Strategy
Preparing for it requires thorough planning and effective execution of the plan. Here are a few tips to gear up your preparation.
Know your syllabus and exam pattern thoroughly. This will help you prioritise your preparation according to the weightage and type of questions asked.
After getting familiar with the pattern and syllabus, you need to sketch out a timetable and schedule all the subjects that you may have to study according to your priority list. Make sure you allow time for your leisure activities and other commitments as well.
Take a lot of mock tests to get used to the examination environment and know where you stand in your preparation.
Answer Previous Year Papers to get a detailed insight into the questions asked. If you are lucky, some questions might also repeat.