RSMSSB Computer Syllabus 2023 PDF | RSMSSB Exam Pattern – Rajasthan Subordinate and Ministerial Services Selection Board (RSMSSB) has going to conduct the Written Examination for the post of Computer (Sanganak), for that they shall upload the Syllabus and Written Exam Pattern on the Official Site. Applied candidates who are searching and preparing for this Written Examination. This page will be useful to you, we have included the detailed Syllabus and Exam Pattern Here.
Candidates must know the topics that are asked under each section of RSMSSB Computer exam 2023 during their preparation. We will now be looking at the subject-wise RSMSSB Computer syllabus 2023 so that you can cover all the important topics that can be asked in the examination and ensure scoring maximum marks in it.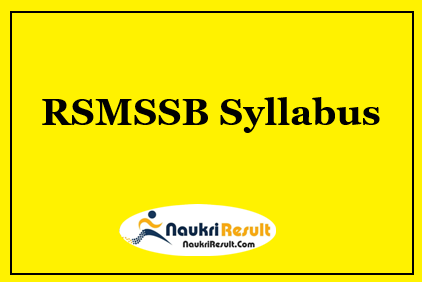 RSMSSB Computer Syllabus 2023 PDF | RSMSSB Exam Pattern
| | |
| --- | --- |
| Organization Name | Rajasthan Subordinate and Ministerial Services Selection Board (RSMSSB) |
| Post Names | Computer (Sanganak) |
| Category | Syllabus |
| Selection Process | Direct Recruitment Examination |
| Job Location | Rajasthan |
| Official Site | rsmssb.rajasthan.gov.in |
| RSMSSB Computer Topics & Exam Pattern | Download Syllabus |
| RSMSSB Computer Previous Question Papers | Download Previous Papers |
RSMSSB Computer Exam Pattern 2023
There will be 100 Questions of Multiple Choice (Objective Type).
Each question carries 1 mark.
The total number of questions is 100.
There will be a negative marking. 1/3rd mark will be deducted for every wrong answer.
The minimum qualifying for the exam shall be 40% total marks of the examination.
The standard of the exam will be Bachelor's Degree Level.
S. No
Name Of Subject
Total Number of Marks
Part A
General Knowledge
30 Marks
Part B
Statistics, Economics and Mathematics
70 Marks
Total
100 Marks
RSMSSB Sanganak Syllabus 2023 PDF
Those Candidates who are Interested to the following vacancy and completed all Eligibility Criteria can read the Notification & Apply Online. In this page we provide the Complete Syllabus of this Recruitment with Latest Update Exam Pattern and the Exam Date also.
General Knowledge:
Major Irrigation Projects,
Handicrafts,
Development Programmes and
Schemes of the State Government,
Various Resources of power and Population in Rajasthan.
Major physiographic divisions of Rajasthan,
Vegetation and Soil,
Natural Resources – Minerals, Forest, Water, Livestock, Wild Life and its Conservation,
Environmental Conservation,
History, Culture, and Heritage of Rajasthan:
History of Rajasthan
Famous Forts,
Temples and Hawelies,
Saints of Rajasthan,
Paintings- various schools in Rajasthan,
Famous Historical & Cultural Places of Rajasthan,
Folk Literature,
Folk Drama,
Lok Debian-Devata,
Folk Art,
Major tourist centers and Heritage Conservation.
Folk Music and Dance,
Fairs & Festivals,
Customs
Jewellery
Art-B – Statistics, Economics, and Mathematics:
Collection, Classification, Tabulation and Diagrammatic Presentation of data. Measures of Central Tendency, Dispersion, Moments.
Index Number: Uses, types, and limitations of index numbers, construction of index numbers, simple and weighted aggregate method, Simple and weighted average price-relatives, Chain base index numbers, Base shifting, and Cost of Living index numbers.
Design of Sample Survey: Sampling Unit, Sampling frame, Sampling fraction, Sampling with and without replacement, Population Parameter and Sample estimator, Simple random sampling, stratified random sampling, systematic sampling, cluster sampling.
Correlation and Regression: Correlation and its coefficients, Linear Regression.
Time Series Analysis: Components, Measurements of Trend, Seasonal, Cyclical and irregular variations.