Naval Ship Repair Yard Tradesman Syllabus 2023 PDF | Exam Pattern – Naval Ship Repair Yard, Port Blair has going to conduct the Written Examination for the post of Tradesman (Skilled) , for that they shall upload the Syllabus and Written Exam Pattern on the Official Site. Applied candidates who are searching and preparing for this Written Examination. This page will be useful to you, we have included the detailed Syllabus and Exam Pattern Here.
Candidates must know the topics that are asked under each section of Naval Ship Repair Yard Tradesman exam 2023 during their preparation. We will now be looking at the subject-wise Naval Ship Repair Yard Tradesman syllabus 2023 so that you can cover all the important topics that can be asked in the examination and ensure scoring maximum marks in it.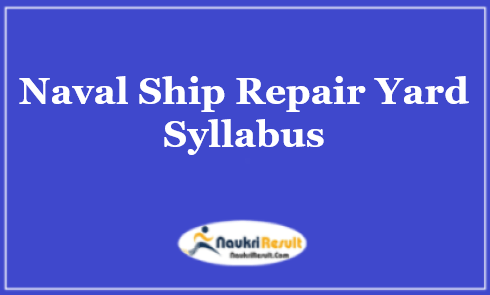 Naval Ship Repair Yard Tradesman Syllabus 2023 PDF | Exam Pattern
| | |
| --- | --- |
| Organization Name | Naval Ship Repair Yard, Port Blair |
| Post Name | Tradesman (Skilled) – Computer Fitter, Electronic Fitter, Radar Fitter, Radio Fitter, Machinery Control Fitter, Weapon Fitter, Gyro Fitter, Electrical Fitter, Instrument Fitter, Engine Fitter, ICE Fitter, MT Fitter, ICE Fitter Crane, Machinist, Pipe Fitter, Ref & AC Fitter, Painter, Plater, Lagger, Rigger, Shipwright, Tailor, Welder, Millwright, Civil Work, Sheet Metal, Sonar Fitter, Ship Fitter |
| Category | Syllabus |
| Selection Process | Written Examination |
| Job Location | Units/ Sub Units/ Departments under Jurisdiction of the Headquarters, Andaman & Nicobar Command |
| Official Site | www.davp.nic.in |
| Naval Ship Repair Yard Tradesman Topics & Exam Pattern PDF | Download Syllabus |
| Naval Ship Repair Yard Tradesman Previous Question papers PDF | Download Previous Question papers |
All Shortlisted/eligible candidates will have to appear in written examination consisting of objective type questions based on the Essential qualifications.
The question paper will be bilingual in both English & Hindi (except for General English) covering aspects as below:
| | |
| --- | --- |
| Name of Subject | Maximum Marks |
| General Intelligence/ Awareness & Reasoning | 30 Marks |
| General English | 10 Marks |
| Numerical Aptitude | 20 Marks |
| Concerned Subject | 40 Marks |
| Total | 100 Marks |
Naval Ship Repair Yard Tradesman Syllabus PDF Download
Those Candidates who are Interested to the following vacancy and completed all Eligibility Criteria can read the Notification & Apply Online. In this page we provide the Complete Syllabus of this Recruitment with Latest Update Exam Pattern and the Exam Date also.
Mathematics
Exponential and Logarithmic Series.
Circles.
Conic Sections.
Cartesian System of Rectangular Coordinates.
Relations and Functions.
Applications of Derivatives.
Determinants.
Straight Lines Family of Straight Lines.
Complex Numbers.
Differentiation.
Quadratic Equations.
Logarithms.
Permutations and Combinations.
Probability Function.
Matrices.
Indefinite Integrals Binomial Theorem.
Trigonometry.
Sequences and Series.
Definite Integrals.
General Knowledge
Chemistry.
Indian Parliament.
Geography.
Inventions in the World.
Zoology.
Indian Economy.
Indian History.
Famous Days & Dates.
Basic Computer.
Indian Culture.
Basic GK.
Physics.
Sports.
Environment.
Famous Books & Authors.
Indian Politics.
Botany.
General Science
Atomic Nucleus / Solid and Semi-Conductor Devices.
Heat Thermodynamics.
The Motion of System of Particles & Rigid Body.
Computer Science.
Organic Chemistry.
Food.
Electrostatics.
Laws of Motion.
Nutrition and Health.
Work, Energy, and Power.
Electromagnetic Waves.
Electromagnetic Induction and Alternating Current.
Magnetic Effect of Current and Magnetism.
Dual Nature of Matter and Radiations.
Principles of Communication.
Mechanics of Solids and Fluids.
Metals and Non-Metals.
Physical World and Measurement.
Physiology and Human Diseases.
Kinematics.
Optics.