National Overseas Scholarship 2023 | Check NOS Eligibility, Apply Online – The Government of India has created many scholarship opportunities for students belonging to the sc, scheduled tribe category, and the category of vimukta nomadic and semi-nomadic tribes, landless agricultural labourers and traditional artisans. Today we will share with you all the details of the scholarship opportunity which is known as National Migrant Scholarship Programme 2023 for SC, ST and other students. We will also share with you all the step-by-step procedures through which you will be able to apply for this scholarship without any problems and difficulty.
Sc, ST and other students who currently reside in the country are struggling hard to continue their education due to lack of funds and the backward scenarios that currently exist in the country. People will be able to apply for this national scholarship especially for ST students so that they can continue their education and move forward in their careers without compromising their family's health.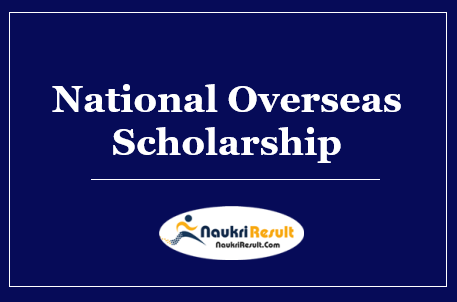 National Overseas Scholarship 2023 | Check NOS Eligibility, Apply Online
| | |
| --- | --- |
| Organization Name | Ministry of Social Justice and Empowerment |
| Name of the Scholarship Scheme | National Overseas Scholarship Scheme |
| Category | Scholarships |
| Beneficiaries | Candidates belonging to Scheduled Castes, Denotified Nomadic and Semi-Nomadic Tribes, Landless Agricultural Labourers, and Traditional Artisans category. |
| Last Date to Apply Online | March 2023 ( To Be Updated ) |
| Mode Of Application Form | Online |
| Official Website | nosmsje.gov.in |
| Apply for National Overseas Scholarship Scheme 2023 | Click Here  |
| To check the NOS Scheme Guidelines | Click Here |
Eligibility Criteria
Educational Qualification
In order to be eligible for the scholarship, at least 60% marks or equivalent grade in the qualifying examination would be required.
In the case of Ph. D courses, the qualifying exam would be Master's Degree and for Master's Degree courses, the qualifying examination would be Bachelor's Degree.
In case a student has completed a Bachelor's of Engineering after completing Diploma (Lateral Entry to 2nd year), percentage of marks obtained in Bachelor's degree will be taken into account.
Age Limit
Not more than 35 (Thirty-Five) years, as on the first day of April for selection year.
Family Income
Family Income should be less than Rs. 8,00,000/- (Rs. Eight lakh per annum)
Number of Slots
| Category | No. of Slots |
| --- | --- |
| Scheduled Castes (SC) | 90 |
| Denotified, Nomadic and Semi-Nomadic Tribes | 06 |
| Landless Agricultural Labourers and Traditional Artisans | 04 |
| Total | 100 Posts |
Selection Process
Only those candidates who have received an unconditional admission offer from one of the foreign institutions/universities included in the list of top 500 ranked institutions/universities from the academic session 2023-24 and onwards will be considered for award of scholarship for studies therein. subject to fulfilment of other eligibility conditions of institution/university scheme
No request for change in the institute/university will be entertained. If the selected candidate wants to change the course or university, he/she can apply afresh in the next available round.
There will be only two rounds of selection. For each cycle of selection, a merit list of eligible candidates will be prepared on the basis of rank as per the latest available QS rankings of foreign universities/institutions from where the candidate has received the offer of admission and scholarship. This qualification will be awarded in order. High ranked universities/ Candidates holding proposal letters from the institute will be ranked higher in the merit list. In case of a tie between the QS ranking of two or more candidates, the decision of their position in the qualification is/are the marks obtained by the candidate in the qualifying examination for higher studies/ will be done on the basis of grade, for which scholarship has been applied for.
Online applications of eligible candidates will be placed before the Selection Screening Committee to make their recommendations for selection and ranking of eligible candidates for the scholarship.
The waiting list of eligible candidates will be kept in the final round. The waiting list will be valid till March 31 of the selection year. The waitlisted candidates can also apply for the next selection year. The waiting list will be a maximum of 50% of the total seats
The selected candidates who have already secured admission in foreign universities/institutions will be issued provisional award of scholarship letter
The maximum time period of one year or two admission moratorium, whichever is earlier, may be allowed from the date of issue of provisional award letter to students to join the University/Institute abroad, failing which the award will automatically be cancelled and there will be no correspondence in this regard. Will then be entertained
If confirmation of the award letter is issued to an awardee, he/she has to complete all the procedures such as verification of original documents, submission of bonds, refining capacity certificate, etc., within six (6) months from the date of issue of confirmation. of the award letter, otherwise the award letter will be automatically cancelled. No further time will be given to complete these formalities
National Overseas Scholarship Rewards
Selected students can pursue higher studies in the US, UK, Germany, Australia and many other countries. The selected candidates should avail the National Overseas Scholarship Award within one year of receiving the information from the Ministry. If they do not respond within the stipulated time, the National Scholarship Awards will automatically be cancelled. The National Scholarship covers the following expenses of the selected students:
Maintenance allowance of 15,400 US Dollars per annum for students in the US and 9,900 Great Britain Pound per annum for students in the UK
Contingency allowance
Poll tax
Incidental journey and equipment allowance of 20 US Dollars
Visa fees
Tuition fees
Medical insurance
Air flight tickets (economy class)
Local travel
The candidates pursuing a masters degree can receive the national scheme by the Indian government rewards for three years.
Those seeking a PhD degree will receive the national scholarship benefit for four years
Documents Required to fill the NOS Online Application Form 2023
10th Board Certificate
Caste Certificate
Photo
Scanned Signature
Current Address proof/ Permanent Address Proof, in case different from current address
Qualifying Degree/ Provisional Certificate
Mark sheet of qualifying examination
Valid Document regarding admission in Foreign University (Application, Registration or Admission related document)
Income documents of all family members
Employer's NOC Certificate if the applicant is employed. Gap certificate in case there is a gap of more than 6 months after completing the qualifying degree
ITR acceptance document
How to apply for National Overseas Scholarship Scheme 2023?
Visit the official website @ nosmsje.gov.in
If you have not registered before, click on the Register tab
Give in your details in the fields asked
Once you were successfully registered, click on the Login tab
Login with your details
Enter your details and upload the required documents
Finally, submit the application form and download a copy of it for later references