MP High Court Law Clerk Research Assistant Syllabus PDF | Exam Pattern – High Court of Madhya Pradesh has going to conduct the Written Examination for the post of Law Clerk Research Assistants, for that they shall upload the Syllabus and Written Exam Pattern on the Official Site. Applied candidates who are searching and preparing for this Written Examination. This page will be useful to you, we have included the detailed Syllabus and Exam Pattern Here.
Candidates must know the topics that are asked under each section of MP High Court Law Clerk Research Assistant exam 2021 during their preparation. We will now be looking at the subject-wise MP High Court Law Clerk Research Assistant syllabus 2021 so that you can cover all the important topics that can be asked in the examination and ensure scoring maximum marks in it.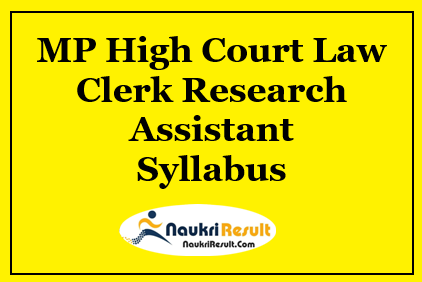 MP High Court Law Clerk Research Assistant Syllabus PDF | Exam Pattern
MP High Court Law Clerk Research Assistant Exam Pattern 2021
The exam will be conducted in 150 multiple choice objective-type questions.
The time duration is 2 Hours.
The exam will be in two parts.
Part-1  will be General English & General Aptitude / Awareness.
Part-2 will be concerned subjects.
Subject
No of Marks
Time Duration
Part-1: General English & General Aptitude / Awareness including computer knowledge
50 Marks
2 Hrs
Part-2: Indian Constitution, Indian Penal Code, Criminal Produce Code, Civil Produce Code, and Indian Evidence Act, etc.
100 Marks
MP High Court Law Clerk Research Assistant Syllabus 2021
Those Candidates who are Interested to the following vacancy and completed all Eligibility Criteria can read the Notification & Apply Online. In this page we provide the Complete Syllabus of this Recruitment with Latest Update Exam Pattern and the Exam Date also.
General English
Spellings/ Detecting Mis-spelt words
Antonyms and their correct usage
Common Error
Active/ Passive Voice of Verbs
Comprehension Passage
Spot the Error
Cloze Passage
Fill in the Blanks
Shuffling of Sentence parts
Conversions
Sentence Rearrangement
Grammar
Shuffling of Sentences in a passage
Improvement of Sentences
Synonyms/ Homonyms
Antonyms
Vocabulary
Idioms & Phrases
One word substitution
General Aptitude
Pipes and Cisterns, Partnership
Compound Interest
Problems on L.C.M and H.C.F
Probability, Problems on Trains
Numbers and Ages
Averages, Percentages
Profit and Loss
Relationships between Numbers
Volume and Surface Area
Simple Equations
Discount
Percentages
Interest
Boats and Streams
Indices and Surds
Problems on Numbers
General Awareness
Finance Commissions
Taxes on Income and Expenditure
Financial and Railway Budget
Revenue of Central Government
Economic Planning
Inflation
National Income
Public Finance
Bills
Concept of Budget
Schemes and Policies implemented by Government
Indian Banking Industry History
Functions of Banks
Types of Banks
RBI and its Monetary Policy
Capital market in India
Money Market in India
Role of Banking.
Computer Knowledge
MS Word, Microsoft OneNote
Microsoft Access
Introduction to Computer Science
Boolean Algebra
Computer Networks
Emerging Technologies and Web Publishing
PC Software and Office Automation
Database Management System
Data Structures
MS PowerPoint
MS Visio and MS Excel
Microsoft Outlook
The Internet
Workplace Productivity Tools
MS Project, Microsoft Publisher
Concerned Subjects
Indian Constitution
Indian Penal Code
Criminal Produce Code
Civil Produce Code
Indian Evidence Act
MP High Court Law Clerk Research Assistant Exam Preparation Strategy
Preparing for it requires thorough planning and effective execution of the plan. Here are a few tips to gear up your preparation.
Know your syllabus and exam pattern thoroughly.
This will help you prioritise your preparation according to the weightage and type of questions asked.
After getting familiar with the pattern and syllabus, you need to sketch out a timetable and schedule all the subjects that you may have to study according to your priority list. Make sure you allow time for your leisure activities and other commitments as well.
Take a lot of mock tests to get used to the examination environment and know where you stand in your preparation.
Answer Previous Year Papers to get a detailed insight into the questions asked.
If you are lucky, some questions might also repeat.