CGPSC ADPPO Syllabus 2023 PDF | ADPPO Exam Pattern – Chhattisgarh Public Service Commission (CGPSC) has going to conduct the Written Examination for the post of CGPSC ADPPO, for that they shall upload the Syllabus and Written Exam Pattern on the Official Site. Applied candidates who are searching and preparing for this Written Examination. This page will be useful to you, we have included the detailed Syllabus and Exam Pattern Here.
Candidates must know the topics that are asked under each section of CGPSC ADPPO exam 2023 during their preparation. We will now be looking at the subject-wise CGPSC ADPPO syllabus 2023 so that you can cover all the important topics that can be asked in the examination and ensure scoring maximum marks in it.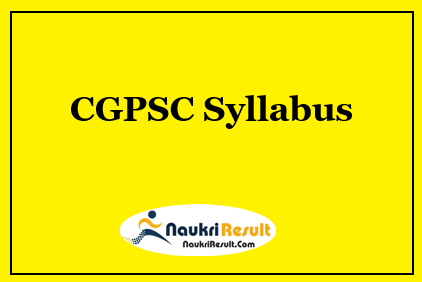 CGPSC ADPPO Syllabus 2023 PDF | ADPPO Exam Pattern
Organization Name
Chhattisgarh Public Service Commission (CGPSC)
Post Name
Assistant District Public Prosecution Officer (ADPPO)
Category
Syllabus
Selection Process

Written Examination
Personal Interview

Job Location
Chhattisgarh
Official Site
psc.cg.gov.in
CGPSC ADPPO Topics & Exam Pattern
Download Syllabus
CGPSC ADPPO Previous Question Papers
Download Previous Papers
CGPSC Exam Pattern 2023
Exam Will be Objective Type.
Questions will be in the form of MCQs.
The Total Number of Questions in this exam is 150.
Every question will be of 2 marks each.
The time allocated for this exam will be of 3 Hours.
Question Paper Will be Bilingual i.e. English & Hindi
Minimum Qualifying marks will be 33% marks (for SC/ ST/ OBC 23% marks).
There shall be a negative marking of 1/2 mark on every wrong answer
Section
Number Of Questions
Number Of Marks
I – General Knowledge of Chhattisgarh
50 Questions
100 Marks

II
(a) Constitution and Major Acts
(B) Minor Acts

100 Questions
200 Marks
Selection Process
The candidates have to get at least 33% marks in the question paper. The qualifying marks in the case of SC/ST OBC candidates will be 23% only.
There are no minimum qualifying marks in interview.
The number of candidates to be called for interview shall be approximately 03 times the number of vacancies given in the advertisement.
The candidate will be selected on the basis of merit and category wise on the basis of total marks obtained in the examination and interview.
CGPSC ADPPO Syllabus PDF Download
Those Candidates who are Interested to the following vacancy and completed all Eligibility Criteria can read the Notification & Apply Online. In this page we provide the Complete Syllabus of this Recruitment with Latest Update Exam Pattern and the Exam Date also.
Syllabus for General Knowledge:
History of India and Indian National Movements.
History of Chhattisgarh and Chhatisgarh National Movements.
Physical, Social and Economic Geography of India.
Constitution of India, Polity, Administrative Structure of Chhattisgarh.
Local Government of Chhattisgarh and Panchayat Raj.
Economy, Commerence, Forest and Agriculture of India.
Tribes, Special Tradition, Teej and festival, Dance.
Tourist Centers of Chhattisgarh.
Current Events – National & International.
Culture & Heritage – India & UP.
Geography – India & UP.
General Polity.
History – India & UP.
Science & Technology.
Economy – India.
Environmental Studies.
Current Affairs – National & International.
Budget and Five Year Plans.
Important Financial & Economic News.
Sports.
Awards and Honors.
Abbreviations.
Books and Authors.
Important Days.
Science – Inventions & Discoveries.
International & National Organizations.
Countries & Capitals etc.
Syllabus for Major Acts:
Constitution of India Part – 3, Fundamental Rights.
Part – 4 Directive Principal of State.
Part – 5 President and Vice President, Union Judiciary, Governor, State Legislative.
High Court in the State, Subordinate Courts.
Criminal Procedure in the Court, 1973 Complete.
Indian Evidence Act, 1872 – Complete.
Indian Penal Code 1860 – Complete.
Constitutional Law of India.
Indian Contract Act – 1872.
Transfer of Property Act – 1882.
Civil Procedure Code – 1908.
Law of Torts.
Information Technology Act.
Protection of Women from Domestic Violence Act – 2005.
Right to Information Act – 2005.
Dowry Prohibition Act 1961.
Dowry Prohibition (Maintenance of Lists of Presents to the Bride & Bridegroom) Rules 1985.
Immoral Traffic Act 1956.
Indecent Representation of Women Act – 1986.
Prohibition of Child Marriage Act 2006.
Young Persons Act – 1956.
Protection of Children Act 2012.
Juvenile Justice Act 2000.
Syllabus for Minor Acts:
Indian Penal Code – 1860.
Criminal Procedure Code – 1973.
Arms Act – 1959 Complete.
Protection of Human Rights Act.
Right to Information, Act – 2005.
Legal Service Authority Act – 1987.
Chhattisgarh High Court Rules and Orders.
Chhattisgarh Visesh Jan Suraksha Adhininam.
Prevention of Unlawful Activities.
Scheduled Caste and Scheduled Tribes Act.
Indian Evidence Act – 1872.
Scheduled Castes & Scheduled Tribes Act 1989.
Wild Life Protection Act – 1972.
Food Safety & Standards Act – 2006.
Prevention of Corruption Act – 1988.
Arms Act – 1959.
Narcotic Drugs & Psychotrotic Substances Act – 1985.
Indian Electricity Act – 2003.
MP Exercise Act – 1915.
Motor Vehicles Act – 1988.
Indian Railways Act – 1989.
Essential Commodities Act 1955.
The Probation of Offenders Act – 1958.
The Protection of Human Rights Act – 1993.
The Environment Act – 1986