UPPCL Assistant Accountant Syllabus 2021 PDF | UPPCL Exam Pattern – Uttar Pradesh Power Corporation Limited has going to conduct the Written Examination for the post of Assistant Accountant, for that they shall upload the Syllabus and Written Exam Pattern on the Official Site. Applied candidates who are searching and preparing for this Written Examination. This page will be useful to you, we have included the detailed Syllabus and Exam Pattern Here.
Candidates must know the topics that are asked under each section of UPPCL Assistant Accountant exam 2021 during their preparation. We will now be looking at the subject-wise UPPCL Assistant Accountant syllabus 2021 so that you can cover all the important topics that can be asked in the examination and ensure scoring maximum marks in it.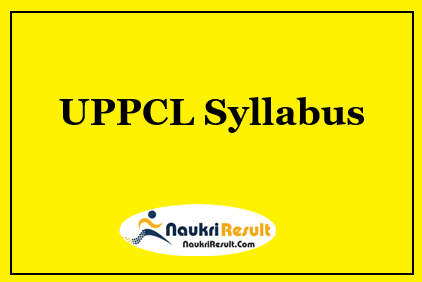 UPPCL Assistant Accountant Syllabus 2021 PDF | UPPCL Exam Pattern
| | |
| --- | --- |
| Organization Name | Uttar Pradesh Power Corporation Limited |
| Post Name | Assistant Accountant |
| Category | Syllabus |
| Selection Process | Written Test, Interview |
| Job Location | Lucknow |
| Official Site | upenergy.in |
| UPPCL Assistant Accountant Syllabus 2021 & Exam Pattern PDF | Download syllabus |
| UPPCL Assistant Accountant Previous Papers | Download Previous Papers |
UPPCL Assistant Accountant Exam Pattern 
Exam Pattern for the Written Exam is as Follows:-
The selection process will be done through the Computer Based Test (CBT).
Computer Based Test (CBT) will be done on the basis of the information provided by the candidate.
The Computer Based Test (CBT) will be done in two parts.
There will be 50 questions in the First Part and 150 questions in the Second Part.
There will be the negative marking for every wrong answer of 1/4th mark each.
First Part:-
In the First Part of Computer Based Test (CBT) there will be 50 questions on Computer Based knowledge.
Each question will be of One mark each.
The First Part would be conducted for maximum of 50 marks.
This is compulsory to score at least 50% of marks in the First Part of the Examination, otherwise the second part of that candidate will not be checked.
Second Part:-
There are total 150 questions in the Second part of this examination.
Every question will be of 1 mark each.
Second part will be conducted for maximum of 150 marks.
Subject Names
Questions
Marks
Part 1: O Level Computer Knowledge
50
50
Part 2:

General English & Hindi
Arithmetic
Accountancy, Auditing & Income Tax

150
150
Total
200 Questions
200 Marks
UPPCL Assistant Accountant Syllabus PDF Download
Those Candidates who are Interested to the following vacancy and completed all Eligibility Criteria can read the Notification & Apply Online. In this page we provide the Complete Syllabus of this Recruitment with Latest Update Exam Pattern and the Exam Date also.
Syllabus of Computer Knowledge
Computer Hardware
Operating System
MS Excel
Computer Software
MS Word
MS Power-Point
Internet Usage
Syllabus of General English
Vocabulary
Synonyms
Grammar
Sentence Structure
Antonyms
Articles
Pronouns
Adjectives
Prepositions
Conjunctions and Question tag
Verb and Tense Agreement between subject and verb Gerund Participles
Model auxiliaries
Usage of the can may should etc
Use of some many any few a little since and for
Active and passive voice
A degree of adjectives
Common errors of usage etc
Usage of Words etc.
Syllabus of General Hindi
प्रत्यय
समास
उपसर्ग और प्रत्यय
विपरीतार्थक शब्द
संधि तथा संधि-विच्छेद
अनेकार्थक शब्द
वाक्यों का वर्गीकरण (सरल, मिश्र तथा संयुक्त)
संज्ञा से अव्यय तक
समास
शुद्ध-अशुद्ध (शब्द शुद्धि, वाक्य शुद्धि)
भिन्नार्थक शब्द
वाक्यांश के लिए एक शब्द
संज्ञा, सर्वनाम और विशेषण आदी की मूलभूत समझ और इनके भेदों का ज्ञान
हिंदी भाषा का मूलभूत ज्ञान (स्वर, व्यंजन, रस)
मुहावरे और लोकोक्तियाँ
अनेक शब्दों के लिए एक शब्द
उचित शब्द से दिए गए रिक्त स्थान की पूर्ती
पर्यायवाची शब्द, विलोम शब्द, शब्द युग्म, लिंग परिवर्तन, वचन परिवर्तन आदी
वर्ण, वर्तनी और उच्चारण
वाक्य-क्रम व्यवस्थापन
रचना भाषा एवं व्याकरण
दिए गए वाक्यांशों को सही क्रम में व्यवस्थित करके एक अर्थपूर्ण वाक्य बनाना
उच्चारण स्थान
रिक्त स्थानों की पूर्ति
पर्यायवाची शब्द
वर्तनी सम्बन्धी अशुद्धियाँ
मुहावरे
उपसर्ग
Syllabus of Arithmetic
Profit and Loss
Time and Distance
Interest
Tables and Graphs
Mensuration
Ratio and Time
Time and Work
Number Systems
Fundamental Arithmetical Operations
Whole Numbers
Decimals and Fractions
Averages
Ratio and Proportion
Percentages
Discount
Syllabus of Accountancy
Trading and Profit & Loss Accounts and Balance Sheets
Bills of Exchange
Self-balancing ledgers and sectional balancing
Capital & Revenue, Receipts & Payments, Income & Expenditure Accounts
Depreciation, Reserve & Provisions
Branch and Departmental Accounts
Double Accounts System
Bank Reconciliation Statement
Rectification of Errors
Balance Sheet Formats & Classification
Syllabus of Auditing and Income Tax
Object of Audit
Vouching and Verification
Rights, Duties & Liabilities of Auditors
Income Tax, Provisions pertaining to income from salary and Provision related to chapter – VI of Income-tax Act 1961
A provision relating to TDS & forms to be filed with the Income – Tax Department. 
Exam Preparation Strategy
Preparing for it requires thorough planning and effective execution of the plan. Here are a few tips to gear up your preparation.
Know your syllabus and exam pattern thoroughly. This will help you prioritise your preparation according to the weightage and type of questions asked.
After getting familiar with the pattern and syllabus, you need to sketch out a timetable and schedule all the subjects that you may have to study according to your priority list. Make sure you allow time for your leisure activities and other commitments as well.
Take a lot of mock tests to get used to the examination environment and know where you stand in your preparation.
Answer Previous Year Papers to get a detailed insight into the questions asked. If you are lucky, some questions might also repeat.