RRB NTPC Exam Analysis 2022 | Check Exam Analysis for All shifts – Railway Recruitment Board  is organizing the NTPC exam for 12th pass candidates from 13th June 2022 . The exam was conducted in computer-based mode today. The exam conducting authorities followed all government SOPs to stop the COVID-19 spread and conduct the exam in a smooth manner.
Candidates were asked to wear masks, carry hand sanitisers and maintain social distancing at the RRB NTPC exam centre. Shift 1 of the RRB NTPC 2022 tier-1 exam was conducted without any trouble. The difficulty level was of easy to moderate level.
RRB NTPC Exam Analysis 2022 | Check Exam Analysis for All shifts
Railway Recruitment Board has successfully conducted the RRB NTPC exam on 13th June 2022
across the nation. According to the RRB NTPC exam dates, the seventh phase of RRB NTPC is scheduled to be conducted on 13th June 2022. Candidates who appeared in the RRB NTPC exam can check the overall RRB NTPC exam analysis for today.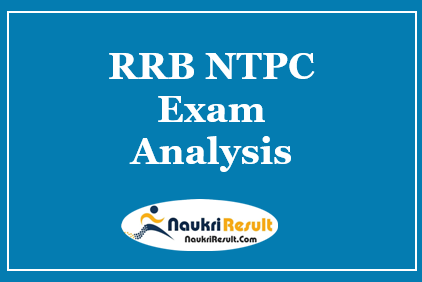 RRB NTPC exam analysis 2022: Highlight
The total duration of RRB NTPC CBT-1 is 90 minutes.
There were 100 multiple choice questions and 1 mark will be awarded for each correct answer given by students.
There was a negative marking of 0.5 marks.
RRB NTPC cut-off is calculated using the normalization method.
RRB NTPC CBT 1 Exam Timings
| | | | |
| --- | --- | --- | --- |
| Exam Date | Number of Shift | RRB NTPC Exam Starting Timing | RRB NTPC Exam Finishing Timing |
| 13th June 2022 | Shift 1 | 10:30 AM | 12:00 PM |
| 13th June 2022 | Shift 2 | 03:00 PM | 04:30 PM |
RRB NTPC CBT 2 Exam Analysis 2022 – Overall
| | | | |
| --- | --- | --- | --- |
| Sections | No. of Questions | Good Attempts | Difficulty Level |
| General Awareness | 50 | 28-30 | Moderate |
| General Intelligence and Reasoning | 35 | 27-31 | Easy-Moderate |
| Mathematics | 35 | 24-27 | Easy-Moderate |
| TOTAL | 120 | 80-88 | Easy to Moderate |
RRB NTPC CBT 2 Exam Analysis 13 June 2022
RRB CBT 2 Quantitative Aptitude Exam Analysis
| | |
| --- | --- |
| Topic | No of Questions |
| DI (Graph) | 04 |
| SI/ CI | 02 |
| Algebra (Cylinder, Cone) | 01 |
| Mensuration | 03 |
| Ratio & Proportion | 01-02 |
| Percentage | 02 |
| Profit/Loss | 03 |
| Geometry | 01 |
| Number System | 03 |
| Simplification | 04-05 |
| Time and Work | 02-03 |
| Statistics | 02 |
| Time, Speed and Distance | 02 |
| Average | 01 |
| Trigonometry | 01 |
| Mixture Alligation | 02 |
| Mean, Median, Mode | 01 |
| Total | 35 |
NTPC 2022 CBT 2 Reasoning Exam Analysis
| | |
| --- | --- |
| Topic | No of Questions |
| Puzzles | 05 |
| Seating Arrangement | 05 |
| Inequality | 03 |
| Syllogism | 04 |
| Coding-Decoding | 2-3 |
| Statement & Argument | 4 |
| Statement & Conclusion | 01 |
| Calendar | 01 |
| Series | 1-2 |
| Analogy | 03 |
| Odd One Out | 1 |
| Blood Relation | 02 |
| Direction & Distance | 02 |
| Order & Ranking | 01 |
| Total | 35 |
NTPC General Awareness Exam Analysis
| | | |
| --- | --- | --- |
| Topic | No of Questions | Difficulty Level |
| History | 04 | Moderate |
| Geography | 02 | Easy |
| Economics | 07-08 | Easy |
| Polity | 04 | Easy |
| Static | 08 | Moderate |
| Biology | 09 | Easy-Moderate |
| Chemistry | 05 | Easy |
| Physics | 02 | Moderate |
| Computers | 04 | Easy |
| Current Affairs | 06-08 | Easy-Moderate |
| Total | 50 | Moderate |